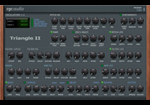 Triangle 2 is a free VST instrument from Cakewalk. This synth may not have tons of features but it still manages to sound pretty good. The presets aren't much to rave about but a little tweaking can yield some interesting sounds. Triangle 2 includes delay and reverb effects as well as some sound mangling distortion effects called Sync, DC Burst, Hard Drive and Decimator. I started with a somewhat gritty sound with some nice portamento as heard in the loop
Sliding Grr Bass01 - 80 bpm
but once I added some PWM and the Hard Drive effect a big difference was made as heard in
Sliding Grr Bass02 - 80 bpm
Another good example of a gritty and dirty sound I made with this synth can be heard in the loop
Angry Panda Synth 130 bpm
.
The Triangle 2 synth also has a nice midrange bass that can be achieved as heard in
Bossman Synth 120 bpm
. The upper range of frequencies is also present but can sometimes take some work to achieve that sparkle in your sound. I made a nice patch and added some delay for a cool effect as heard in
Upsy Daisy Synth 100 bpm
.
Overall I was rather pleased with the Triangle 2 VST instrument. My biggest complaint about this free synth from Cakewalk is the filters and reverb were rather weak. There were very few sounds that the filter had a noticable effect on and the reverb sounded like a really cheap spring reverb knock off. I can't really complain about this VST instrument though because it's free and does make some nice sounds. Check out my youtube video of the Triangle 2 synth which demonstrates this little gem of a synth.
Video demo of the Triangle 2 Free VST instrument>>
Triangle 2 VIDEO