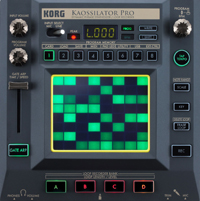 The Korg Kaossilator Pro is a revolutionary touch-sensitive X-Y interface that made sound manipulation more interactive and expressive than ever before. The Kossilator Pro is a powerhouse synthesizer, loop-sampler, live performance, music production wonder-tool. You don't need years of lessons to improvise a part. Just tap and slide away on the X-Y pad and let your musical intuition take over. The Kaossiltor Pro is capable of recording four sets of four-bar looped phrases, each with sound-on-sound over-dubbing capabilities, meaning you can build complex, layered grooves from the ground up.

The Kaossilator Pro has PCM samples that provide dramatic drum kits and ready to rock percussion patterns as well as Vocoder programs that deliver scintillating vocal effects. There is also a gate arpeggiator that repeatedly triggers sounds in sync with the tempo. The unit also has dedicated software that lets you manage loop data, MIDI assignments, and user settings from your computer.

Using the touchpad is highly intuitive - simply rub, stroke, or tap it to instantly create complex phrases with a single finger to control pro-level sounds including synths, drums, FX and other instruments. These sounds complement all styles of electronic and dance music including techno, house, breaks, hip hop, R&B, reggae, and electro. There are also numerous acoustic instruments such as piano, trumpet, and guitar, providing a further boost to your expressive resources.

The Korg Kaossilator Pro is a fun and inspiring unit that is definitely worth adding to your gear.